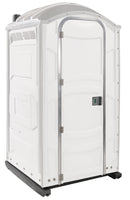 ---
Availability : Usually Ships in 20 Business Days
PolyJohn PJN3-FT02-1000-PSN1-1000 Portable Restroom w/ Recirculating Flush and Sink. The PJN3 is the most popular portable restroom on PortableHandwashing.com. This unit features: maximum ventilation, roomy interior, anti-slip floor surface for improved safety, occupancy signal latch, two tissue roll dispensers, sanitary seat deck and floor design, and translucent roof for better lighting. The PJN3 is easy to service and clean, thanks to advanced waste tank design with rounded slope top and conveniently placed deep central sump.
NEED A DUMP VALVE ADDED TO YOUR RESTROOM? ADD THE DT02-1000 TO YOUR SHOPPING CARTThis unit comes with:
• Non-Splash Urinal
• PJN3 Recirculating Flush Tank
• PJN3 Sink
More information on what's inside:


PJN3 Recirculating Flush Tank:
This re-circulating flush system is designed specifically for the PJN3 and PJP3 portable restroom models. It has an aesthetically contoured waste holding tank with a sloped top to drain away fluid, and an integrally molded seat base and bowl to provide a strong "swirlpool" flush.The re-circulating flush tank conceals waste by the use of a weighted flapper valve. It also comes with a floor-mounted foot operated pump that allows hands free operation. What's even better is that this tank conserves water.The large hinged lid with a built-in prop rod acts as an access port for service and maintenance.
• Hands free
• Floor mounted foot operated pump
• Conceals waste
• Aesthetically pleasing
• Hinged top allows easy access for service
• Conserves water

PJN3 Sink:
The PJN3 Sink is the perfect add-on to any PJN3 portable toilet. Anti-bacterial hand creams and foams are convenient, but they cannot match the sanitary effectiveness of using the hands-free foot operated pump to wash hands with soap and water in the PJN3 Sink. The PJN3 is your convenient, hygienic, heavy-duty option for proper sanitation.
•
Hygienic hands-free foot operated pump
• A convenient option for any market
• Heavy-duty one-piece construction
• Easy to clean and maintain
• Soap and towel dispensers available


Features:
•
Door mounted mirror and handle standard
•
Advanced waste tank design with rounded slope top and conveniently placed deep central sump
•
Heat-treated aluminum doorjamb designed to withstand frontal impact
•
Non-splash urinal standard
New Engineering Provides:

•
Easier to service and clean, with reduced time for pumping, wipe downs, and drip dries
•
Reduced risk of structural damage to front assembly
•
Sag resistant door assembly
•
Unique paper holder design
WARNING: California Residents
This product and/or packaging can expose you to chemicals including Styrene, which is known to the State of California to cause cancer and birth defects or other reproductive harm. For more information go to www.P65Warnings.ca.gov.
Top Selling Portable Sinks & Restrooms